| | |
| --- | --- |
| | "Save the Sunocos in the Poconos" |
Published in Design/Build Business magazine, "Letters to the Editor," page 6, February 1999 issue: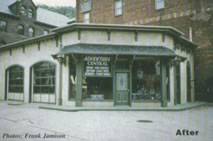 There is no doubt that the transformation of the dilapidated service station in Jim Thorpe, PA, (Design /Build, Oct. 98) into Victorian elegance was not only masterful in its execution but also a smooth integration into the existing late-nineteenth century charm of downtown Jim Thorpe.

However, one can only wonder why communities seem impelled to hide the architecture of recent decades - buildings of forms and materials that despite not being currently in vogue are nevertheless an integral part of a town's historical and economic development - and embrace a generic Disney-inspired trompe l'oeil to create an atmosphere that may be pleasing to the eye but is not truly the reflection of a community's history or values.
In looking at the "before" photo of the service station, the boldness and honesty of this older building jumps out from the page. One can easily envision the missing yellow letters attached to the blue metal cladding above the door that probably proclaimed "Sunoco" to a happy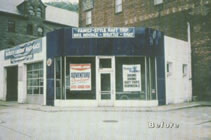 motoring public, in a bygone era of leaded gas and "flat-head" engines where buildings such as this - stoutly, sturdily, and compactly designed with a futuristic flair to match the tailfins on a '57 Caddy - exisited to quickly and efficiently keep the wheels of America rolling.
There is no reason why structures that were built during different stylistic periods cannot continue to co-exist comfortably side by side, providing a rich and varied juxtaposition to the landscape and an immediate visual record of the changes that an area has undergone. Of course there are circumstances where the interjection or continuance of a contrasting style may be undesirable or unwarranted; but it shouldn't take a century to develop an appreciation for the vernacular architecture of just a few decades back in our past.
We may regret plundering our architectural heritage, no matter how banal it may seem at present, for the sake of conforming to a rigid and idealized conception of the facade our towns should maintain in order to achieve the "look" that we hope will increase tourism.

-Daniel John Bornt
November, 1998
Credits: Photos by Frank Jamison, published in Oct. 1998 Design/Build Business magazine
"The Bierwirth Family Tree" website at http://bierwirthtree.tripod.com
©2002 by Daniel J. Bornt, e-mail to: vanatalan@yahoo.com