Bierwirth Genealogy
You are visiting the Bierwirth Family Tree website at http://bierwirthtree.tripod.com
This page last updated on March 14, 2007
Descendants of Andrew Bierwirth
(1821-1902)
Rensselaer County, NY
Andreas W. Bierwirth (b. 1/18/1821, d. 1902) was a descendant of George Beroward, an officer in Sweden's King Gustav Adolph's army who settled in the area of "Germany" about 1630 following the Swedish conquest of "German" (Prussian) territory. Andreas (Andrew) himself was an immigrant, coming to America from "Germany" with his first wife Antoinette (Rudolph) Bierwirth and their six children in 1861. Settling in Petersburgh, NY, in eastern Rensselaer County, his homestead is listed on an 1876 map of Petersburgh. (Scroll down to bottom of map, see "A. Bierwirth" beneath "Dist. No. 2".) It appears that Andrew and Antoinette divorced at some point (date unknown) and he travelled back to Germany for a visit. Soon after he returned, his second wife, Rena Cordes, also from Germany, arrived with his son, Alec. She, it is told, then became homesick for her homeland; consequently, he agreed to let her return to Germany, but she could not take the child with her. He married his third wife Florence Myrtle Cook (see photo below) about 1894, he being in his mid-70's and she around fourteen, and had three more sons by her, Charles, Otto, and Joseph. Andrew died in 1902, and is buried in a small family cemetery near the original Bierwirth farm property now listed as the "Petersburgh -Amos Babcock" cemetery.
"Lydia (Vincent) LaMere whose mother was Theresa (Bierwirth) Vincent Freund, told me many years ago that her Bierwirth ancestor came from Germany in the mid-nineteenth century. He was a musician and became a member of Doring's Band of Troy, NY. She said his brother was a stowaway on the same ship. Like many other German families who settled in rural Renssealer County, they soon intermarried with families already there. Other related names are Church, O'Dell and Nugent." - excerpt from "The Families of Petersburgh, NY," ©1991 by Hilda M. Allen, p. 4.
"Germany to America, List of Passengers Arriving at U.S. ports, Vol. 14"
Disembarking from the Hammonia, from Hamburg and Southampton, April 30, 1861:
Andrew Bierwirth, 40, farmer
Antoinette Rudolph Bierwirth, 46
Clara, 22
Andr., 16
Eduard, 14
Marie, 7
Therese, 6
Joseph (Josephine?), 4
(See maps of historical Prussia: http://www.rollintl.com/roll/prussia.htm
and map of 1700s and 1800s German and Russian settlement: http://www.rollintl.com/roll/grsettle.htm )
Babcock (Amos) Cemetery in Petersburgh, Rensselaer, New York, USA
(Courtesy of Town of Hoosick (NY) Historical Society)

Name:
Date of Birth:
Date of Death:
Age at Death:

Babcock, Amos
Comment: death date could be 1805, 1806, 1808, or 1809

1806...
5y 8m 9d
Babcock, Amos
Wife: Mary Reynolds
Abt. 1767
16 Aug 1846
79y 3m 18d
Babcock, Zacheus E.
Mother: Lavina Babcock, Father: Zacheus R. Babcock
10 Aug 1846
2y 2m 23d

Bierwick, Andrew W.
Comment: Co. K, 93 Reg. N.Y. Vols.

1821
1902
Bierwirth, Frankie A.
Mother: Mary C. Bierwirth
01 Nov 1878
3y 8m
Bierwirth, Mary C.
Husband: F.W. Cordes, Comment: born Hanover, Germany, died Cohoes, New York
10 Mar 1849
04 Oct 1885
Green, Fritz E.
1880
1913
Green, John Alton
Mother: Theresa B. Green, Father: Norman Green
18 Mar 1877
3m 24d
Green, Norman
1844
1914
Green, Theresa B.
1852
1914
Reynolds, Mary
Husband: Amos Babcock
20 Sep 1850
76y 5m 2d
Rudolf, Antoinette
Husband: Chas. Grobecker
08 Apr 1893
80y
Bierwirth Family Tree Genealogical Charts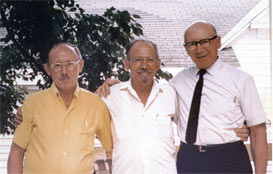 Three brothers: Joseph, Otto and Charles Bierwirth, 1970
Notes:
Genealogical chart is arranged chronologically as much as possible from bottom to top and left to right with earliest births and events at bottom left of chart. In the interest of conserving space surnames of all bearing the Bierwirth name are omitted in the chart.
In the interest of minimizing personal security risks, the genealogy does not show birth dates beyond 1920 or middle names. Anyone wishing not to have their names listed please e-mail vanatalan@yahoo.com for removal.
This Bierwirth Genealogy is now linked to the Petersburgh NY Church Genealogy; clicking on a highlighted Church name will jump to his or her place in the Church Genealogy.
Please help us complete this genealogy! If you are a descendant of Andrew Bierwirth send your family tree information to Dan Bornt, webmaster at vanatalan@yahoo.com.
0 Generation
I
Child
1
II
GChild
2
III
GGChild
3
IV
GGGChild
4
V
GGGGChild
5
Florence Myrtle Cook Bierwirth +(2) Fred Crandall
+(3?) ? Stewart
+(4?) "Shug" Stewart
Lydia Crandall + Stanley
Nordon Stanley
Eugene Stanley
Joseph (1901-1986) +
Elizabeth Burdick
Ronald +
Majorie Decker
Thomas
Harold
Deborah
Ted
Ronald
Gail +? Wilcox
Ralph Wilcox
Gloria + Mike Arya
Mark Ayra + Michelle
Cameron Ayra
Thailene Ayra + ? Gavin
Colin Gavin
Michael Ayra + Allison
Caroline Ayra
Isabelle Ayra
Dylan Ayra
Matthew Ayra
5
6
Joyce +
James Morgan
Julia Morgan
Joyce +
(2) Louis Church
Lawrence Church, Jr.
Louis Church, Jr.
Joseph +(2)
Mary Morgan
Ira + Dawn Leitheuser
Patrick
Stoney
Iva
Wilma +
David Bink
Tanya Bink
David Bink
Joyce
Joseph +(1)
Maude Lackey

Stella
Otto (1899-1982) +
Esther Church (1905-1996)
[See Otto's 1900 census enumeration below]
Patience +
Willard Dougherty
John
Thomas +
Catherine Eldred
Theresa +
Todd Dunlop
Jonathan Dunlop
Lindsay Dunlop
Lisa Dunlop
Kathleen +
Jeffery Brown
Jacob Brown
Megan Brown
James +
Fumiko Tannifuji
**** + ****
****
****
****
****
Jean +
Paul Stephenson
Joshua Stephenson
Fumiko Stephenson
William Stephenson
Jessica +
Charles Wilkerson
Jacob Wilkerson
Jessica DeAnn
Wilkerson
Josephine
Jennifer +
Lyle Hancock
Sebastian Hancock
Jodie Hancock
Lyle Jonathan
Hancock
Jill + ****

Jocelyn
Julie +
R.L. Russell
Christina Russell
James Russell
Janet
Jean +
Bazil Bornt
Susanne Bornt +
Everett Oaks
Amanda Oaks
Daniel Bornt
Charles (1897-1986) +
Marian
Homer
Adrian +(2) Betty
Adrian +(1) Barbara Blake
Max +Pamela
Jared
James
Andrew b. 1985 d. infant
Andrew + (2)
Rena Cordes
(m.1892-3)

Alec [Alex] (b.1893) +
Natalie Wells

Alec Bierwirth - Clearwater, Fla., Dec. 1960

Robert* + (1)
Alice Nugent
*(spelled
Bierwith without 'r')

Robert
Janet +
? Johnston
Amy+
? Radon

Robert + (2)
Ann Ellen Nugent

0 Generation
I
Child
1
II
GChild
2
III
GGChild
3
IV
GGGChild
4
V
GGGGChild
5
0 Generation
I
Child
1
II
GChild
2
III
GGChild
3
IV GGGChild 4
V
GGGGChild
5
VI
GGGGGChild
6
VII
GGGGGGChild
7
Antoinette Rudolph Bierwirth (1813/1815?-1893) + (2) Charles Grobecker
Andrew ["Andreas"]
(1821-1902) +(1) Antoinette Rudolph (1813/1815?-1893)

Josephine (1858-1939) + Andrew Martin

Panzy Martin
Andrew B. Martin (1883-1953) + ? Quigley
Joseph Quigley (Andrew B. Martin's stepson)
Theresa ["Therese"] (1852 [or 1855]-1914) +Norm Green (1844-1914)

Fritz Green (1880-1913) + Naomi (m. 2nd husband Charles Grobecker)

Mildred Green + Schemerhorn
Lorenzo Green
Mary C. Green (1871-1914) +Fred Tilley
Earl Stanley Tilley +Esther Babcock
Holly Tilley
Dany Tilley +Joanne Harrington
Gary Tilley
Jane Tilley +Walter LeBaron
Harry Tilley + Eva Callahan
Harry Tilley, Jr.
Ruth Tilley + Charley Brownell
Lester Tilley
Clarence Tilley + Mary Brown
Mary Alice Tilley
Frances Tilley
Edna Tilley + Legrand Gooding
Mary Tilley + Eugene Wager
Pansy Tilley + John Callahan
John Callahan, Jr.
Jesse Tilley +(2) Etta Bonesteel
Jesse Tilley +(1) Lena Simmons
Hazel Tilley+ Walter Worton
Mirian Worton + Thomas Messon
Marjorie Worton + Leslie Wortz
Nettie Tilley + Jay Tucker
Eva Tucker+ Whitford Bentley
Esther Tucker + Raymond Thomas

Edward +(2) Polly Weeden (1839-1923)

Twins - d. infants
Edward, Jr. (1887-1956)
Viola
Edith + Harold Lohnes
Agnes Lohnes
Barbara Lohnes
Eleanor Lohnes
Edward ["Eduard"] (1851 [or 1847]-1925) + ? "Grobecker?"

Florence +McGinnis

Leon McGinnis

Marlene McGinnis +Glenn Banks
Minnie McGinnis Harold Doyle
Roy McGinnis
Minnie +Loux
Dorothy Loux
John + Bertha Church (1877-1958)
George +Margaret Dailey (1905-1994)
Robert +(2) Gloria ?
Robert +Sheila ?
? female
Wendy
John
Robert
George, Jr. +Jeanne Boylan
Richard +Melody Hale
Ryan
Muriel
Paul
William +Jennifer DeRaps
William

Dennis +(2) Cheryl

Zachery
Dennis +(1) Morgane Henry
Dennis, Jr. + Kasey Bradley
Anthony
Dominic
Daniel +(2) Kitty Arnett
Daniel
Daniel +Lisa Green
Leslie
Kathleen +(2) Norman Clark
Scott Clark
Robert Clark
Kathleen +Timothy Stokes
Timothy Stokes
George III +Sherree
Samuel
George IV
Nicole
Nathan (1902-1972)
Mary Alice
Margaret +? Benkowski
Della +Al Kyer
George Kyer
Marjorie Kyer

Theresa (1884-?) +(1) Edwin W. Vincent
+(2) Adolph Freund

John Vincent +Grace Church
Lydia Vincent +Oscar Lamere
Roger Lamere +Etta Hodges
Jean Lamere +Gordon O'Dell
Earl Lamere
Edward Vincent
Darius (1875-1925)
Lucinda (1873-1933) +Wesley Weedon
Andrew (1871-1958) +Esther Elizabeth (Libby) Church (1878-1918)
Esther (died infant)
Hazel +Chester Sapino
Aileen Sapino +Hewison
Theodore Sapino
Chester Sapino, Jr.
Gladys +Gilbert Niles
Robert Niles
Earl Niles
Jean Niles +Fowler
Doris Niles +William St. Hilaire
Kathryn St. Hilaire + William Harrington
Kacey Harrington
Jason Harrington + Doreen Abney
William Harrington
Lucille St. Hilaire + Joseph Farrara
Theresa Farrara + John Franklin
Jade Franklin
Joshua Franklin
Desi Farrara +
Alex Farrara
Kyle Irick
Mildred +Williams
Mary ["Marie"] C. (1849 [or 1854]-1885) +F.W. Cordes
Frankie A. Bierwirth (1875-1878)
Frederick W. Cordes (1870-1943)
"Andr." (1845?-?)
Clara (1839?-?)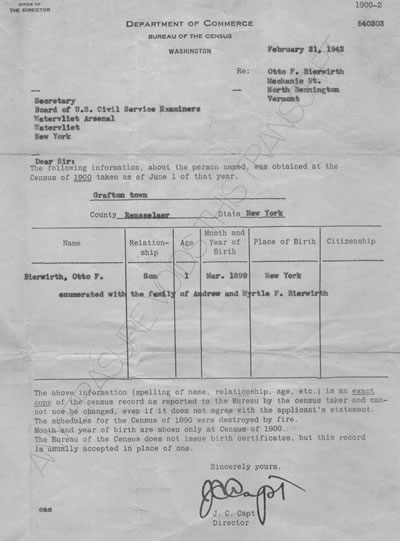 Be sure to visit our
Johnnycake Hill online country store
with country crafts and vintage collectible items!
Genealogical Research and Page Layout by Daniel J. Bornt, 2001
"The Bierwirth Family Tree" website at http://bierwirthtree.tripod.com
©2005 by Daniel J. Bornt, e-mail to: vanatalan@yahoo.com